Games and Activities
These are games and activities I compiled as a music teacher before 2017. Enjoy!
---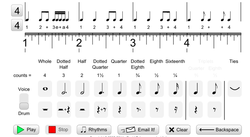 Practice composing a measure of music using different kinds of notes. Then, hear the rhythm played back on a drum, or performed by counting! Check out
Phil Tulga's website
,
Music Through the Curriculum
.
---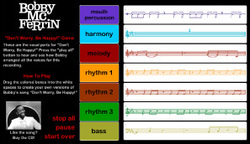 Add layers of Bobby McFerrin's voice to explore texture in music. Just turn your speakers up and drag and drop! Bobby McFerrin is an amazing singer Just Enough, has 8 different layers including 2 bass, two mouth percussion, 3 "riffs", and one melody!

---
---
Other Web Sites
Other cool links to music games, resources, and activities around the world!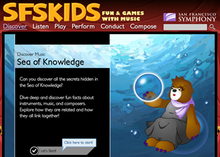 SFS Kids
This is a great site to explore the world of instruments and music. There are games, activities, conducting, and playing instruments. Explore the "Sea of Knowledge" to see all the different connections in music!
---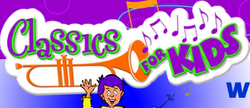 Classics for kids
A great site for kids to learn about classical music. It includes a radio show, composers, games, and much more!
---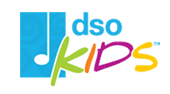 DSO Kids
The Dallas Symphony Orchestra website for kids has games, listening by composer or instrument, and activities you can do at home. A great site to learn about instruments and composers!
---

Classical Connect
Want to listen to classical music, now? For free? This site starts playing right when you land on it and you can browse an amazing library by composer, title, etc.
---

Virtual Instrument Museum
Need to find out about an instrument in Ghana, Africa? India? Russia? This site has photos, videos, and tons of great information. Search by map or by instrument name.
---

Free Play Music
This site has thousands of music clips you can use copyright-free for videos or other media projects (as long as it's not for a business or to make money!). They have a huge selection and you can search by style, feeling, mood, emotion, instrument, etc.
---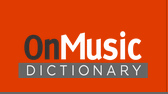 On Music Dictionary
A great dictionary of music terms. Don't know what something means? Look it up!
---
---
Music and Education Resources
Watch here for links to cool websites and other resources for music and education in general for students and parents!
---
Music
Listening to Music
iTunes
Download this free program to organize and play music, TV shows, movies, and more. Purchase new media through iTunes, too. Use this to manage media content on your iPhone, iTouch, iPad, etc.
Google Play
Web-based platform to organize music, apps, TV shows, movies, the same as iTunes. You can also use this to manage your content on Android devices.
Spotify
A music sharing platform to organize your music and find more music, some for free. It's free to use but there are ads. Upgrade to premium and pay the fee to remove the ads.
Pandora
Internet Radio. Choose stations based on genre, style, artist, songs, etc. The free version has ads and commercials every few songs. Upgrade to premium to remove the ads.
SoundCloud
YouTube for music. A music and audio clip sharing platform. It's web based, or get the app for mobile devices. Many less-known musicians are using this to share their music.
Others
:
Classical Music Archives
Classical Connect
MusOpen
Sheet Music:
Sheet Music Plus
Download Sheet Music
JW Pepper
Other Music Sites:Lyrics Search Engine
A great way to find the words to the songs you like.
West Music
A fantastic music store for instruments, music, posters, books, etc. Order online!
Music Graphics Galore
Want to add music clip art to your projects? This site has tons of free music clip art and graphics!
Local Music and Arts Education Resources
Local Music Stores:
Milano Music - Mesa
The Music Store - Mesa
Brindleys Music Center - Chandler
East Valley Music Center - Chandler
Chandler Center For the Arts
Musical Instrument Museum
If you haven't visited this place in North Scottsdale, you need to go! They have an amazing display of instrument from around the world. Listen to each instrument (through headphones) as you walk by them. There are also several TV's with videos of people playing them. Want to play them, too! There's a room of tons of different instruments you can experiment with. It's worth it!
East Valley Music Teacher's Association
Organization for private and public music teachers in the East Valley. Information about events, recitals, and competitions in the East Valley.
Herberger College for Kids
ASU's Herberger College of Fine Arts offers private music lessons for kids of all ages and all abilities.
Phoenix Symphony
Phoenix Music Teacher's Association
Organization for music teachers in the Phoenix area. Search for a music teacher in the area. (They are still updating the Chandler area).
Arizona State Music Teacher's Association
Organization for private and public music teachers.
ASMTA - Find A Teacher
Arizona State Music Teacher's Association - Site to find a local private lesson teacher. Just enter your zip code and you'll get a list of teachers, their instruments, and their phone or emails.
Arizona Commission on the Arts
Arizona State Arts Organization
Arizona Alliance for Arts Education
Arizona State Arts Organization
AMEA - Arizona Music Educators Association
Arizona State Association for Music Education
National Music ResourcesDid You Know?
Research for music education.
Why Learn Music?
Why learn music?
Music For All
Another music advocacy group
Music Matters
Advocacy resource from AEP
Broader Minded
Advocacy site from NAfME
NAfME
National Association for Music Education
Standards
What is my child learning in music class?
Chandler USD Music Standards
Arizona State Music Standards
National Core Arts Standards (June 2014)
---
General Education